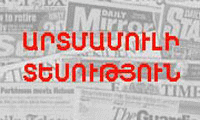 HOW CAN YOU HELP

Ways to contribute to ARARAT Center


Donations: The ARARAT Center for Strategic Research receives no funding from any government or political establishment. It is a politically unaffiliated, independent think tank that relies entirely on your generous donations to realize its mission. If you share the Center's values and objectives, you can help us promote them by donating here.


In-kind contribution: We shall thankfully accept your in-kind contributions in the forms including but not limited to:




academic literature, periodicals, dictionaries;

subscription or access to relevant online literature, journals, databases;

office furniture and office equipment.





The Center also needs permanent premises for its office.


Publish with ARARAT: We will accept with gratitude and publish in the Analysis or Foreign Press Review section of our website your high-quality research papers, analyses, articles, as well as translations from foreign press, if the content of these works is relevant to any of the Center's research areas identified here.


Contribute to online library: You can help us replenish our supplies of online literature by sending us electronic copies of relevant publications that may meet the Center's requirements for content and value. We shall gratefully accept and review them for possible placement on our website.


Your comments and suggestions: We at the ARARAT Center highly value our readers' feedback to what we do and how we do it. We greatly appreciate and encourage your continued involvement with us, taking due notice of your comments and suggestions that help us improve our work, from content to structure.
Inform us of your opinions by leaving your feedback in the readers' comments section of our web-pages and/or by sending it to us via email to info @ ararat-center.org.


Subscribe to our newsletter: Staying informed of the Center's activities is yet another way of getting involved with us: Sign up from Home page for our electronic newsletter (in Armenian and English) to receive into your mailbox periodical updates on the analyses, publications, foreign press reviews (in Armenian), events, projects and other activities of the Center.
Visit here for our Newsletter archive.


all rights reserved 2007-2013
site designed and developed by
Impresario Productions & "Ararat" Center
Yerevan, Ayguedzor Imp. 10, E-mail: info @ ararat-center.org